Egypt protests from afar: Americans wait nervously for loved ones' return
Egypt's street battles are especially worrisome to those Americans who have relatives living or traveling in Egypt. Even with skill and extra cash, a hurried exit from the country is problematic.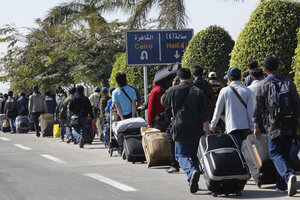 Victoria Hazou/AP
Increasingly violent political demonstrations in Egypt are worrisome for television viewers all over the globe – but for none more so than those with relatives in the country. An estimated 50,000 Americans were in Egypt as the fire of activism spread from the streets of Tunisia to the central square of Cairo.
The US State Department, which Tuesday ordered the evacuation of all nonessential government personnel, has issued a travel warning to Americans considering travel to Egypt. It has also arranged evacuation flights. According to the State Department, roughly 1,800 Americans had been taken out by late Wednesday. The evacuation flights are depositing the Americans in such safe harbors as Cyprus, Turkey, and Greece.
The speed at which the outcry against President Hosni Mubarak's government spread took even seasoned travelers by surprise, says Payal Amin, a Los Angeles doctor. Her parents, aunt, and uncle had just landed in Egypt to begin what was to have been a 10-day vacation on Jan. 27.
---