Hillary Clinton, Obama's road warrior, snags 'most traveled' title
Secretary of State Hillary Clinton was on the road 165 days during her first two years in office, besting previous title holder Condoleezza Rice by two days. Why the job now requires so much travel.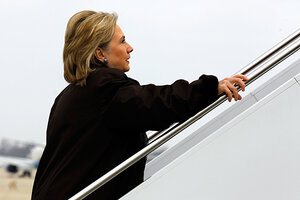 Alex Brandon/AP
Secretary of State Hillary Rodham Clinton's if-this-is-Thursday-it-must-be-Doha work schedule has earned her a distinction that most airline-miles champions could only dream of: She is now the most-traveled top US diplomat for the first two years in office.
With a January that included a trip to a presidential inauguration in Brazil, a quick hop over to Haiti, and, most significantly (in terms of travel), a six-day, 16,500-mile tour through the Persian Gulf, Secretary Clinton squeaked past former Secretary of State Condoleezza Rice for most-traveled bragging rights.
That's not to say Dr. Rice was exactly a Washington-tethered couch potato. While Clinton logged 165 travel days over 40 trips by the end of January – her two-year anniversary in office – Rice had tallied 163 travel days over 39 trips.
In fact, Rice still holds the travel crown by some measures.
---