Terrorism sponsor no more? Obama hints at taking Sudan from the list.
US says it holds the door open for Sudan to be removed from the list of state sponsors of terrorism if it meets its 'obligations,' including recognition of an independent South Sudan.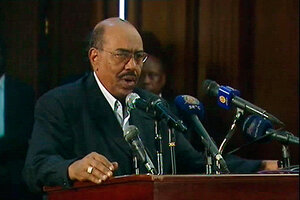 Sudan television via Reuters TV/Reuters
The United States on Monday held out the prospect of reducing its dwindling list of state sponsors of terrorism by yet another country, with both President Obama and Secretary of State Hillary Rodham Clinton saying Sudan could soon be removed from the list.
Talk of Sudan's possible removal from the sponsor-of-terror list came in the context of the release Monday of official results of a January referendum in South Sudan showing that the predominantly Christian half of the country had voted to secede.
The US said Monday it will recognize an independent southern Sudan – and added that recognition of an independent south by Khartoum would pave the way for a review of Sudan's 16-year-old terror sponsor designation.
IN PICTURES: South Sudan referendum
"For those who meet all of their obligations, there is a path to greater prosperity and normal relations with the United States, including examining Sudan's designations as a state sponsor of terrorism," Mr. Obama said in a statement.
---