Will US support a military-backed Mubarak exit?
The Obama administration may be cautiously pleased by reports that Egypt's President Mubarak will move up his departure from power amid intensified pressure from the nation's military.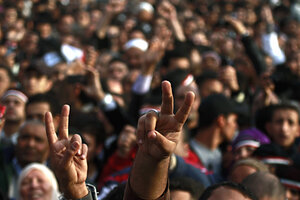 Yannis Behrakis/Reuters
The Obama administration cannot help but be cautiously pleased with news out of Cairo that President Hosni Mubarak will move up his departure from power, perhaps announcing his plans as early as Thursday night.
Mr. Mubarak's decision appears to be a result of intensified pressure from the Egyptian military, the institution with which the US has the closest ties. The military's supreme council met Thursday without Mubarak and announced on state television that it reconfirmed its "support of the legitimate demands of the people."
Reports out of Cairo Thursday evening said Mubarak would relinquish power to the military, which is insisting that the transition is not a coup d'état.
Mubarak's departure sooner than September, his original timetable, would seem to meet President Obama's "hope" that Mubarak would "do the right thing" – as Mr. Obama called for last Friday – by responding to the central demand of Egyptian protesters that he step down.
Still, it remained unclear, before Mubarak actually makes a statement, exactly when he will relinquish power. Egyptian officials were quoted in Egyptian media saying that Mubarak's decision would meet the protesters' demands. Their one common demand has been that Mubarak resign immediately.
But some Egyptian officials hinted that Mubarak might not relinquish power immediately, saying that certain changes would first have to be made to the constitution to accommodate a transfer of power from the president to Vice President Omar Suleiman.
---