Mubarak stepping down in Egypt: Was it a coup?
With Hosni Mubarak stepping down, the transfer of power to the military seems like a coup. But new lines of authority in Egypt are not clear, and the Army is not the only actor on the political stage.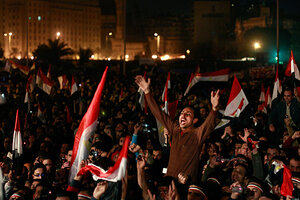 Ben Curtis/AP
Hosni Mubarak stepping down Friday as president of Egypt and handing control of the country to the military is an event that marks a stunning end to Mr. Mubarak's iron-grip regime. As recently as Thursday night, in a speech to the nation, he'd sounded as if he would hang on to the bitter end, refusing to give in fully to the demands of the hundreds of thousands of protesters who have filled Cairo's streets.
Then something changed. Was Mubarak pushed out by the Egyptian armed forces in a process that might fairly be called a military coup?
Well, yes and no. The "yes" part comes from the fact that Mubarak does not appear to have made his own decision to leave. He was pushed out, and the military is the only Egyptian institution with the power to push him.
Plus, in resigning, Mubarak handed control of Egypt to the Supreme Council of the Egyptian Armed Forces, announced Vice President Omar Suleiman on state broadcast outlets Friday. So people in uniform apparently now are responsible for the operation of the government. If that's the real situation, it meets a classic definition of a coup.
---