As Middle East boils, a debate simmers: Is President Obama doing enough?
As President Obama confronts historic turmoil in the Middle East, some in Washington say he should embrace a more idealistic posture. Others says his cautious pragmatism is the best course.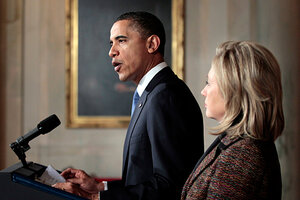 Pablo Martinez Monsivais/AP
As turmoil continues to shake the status quo in the Middle East, a debate is brewing in Washington over President Obama's response to the upheaval.
Should the president seize the moment to put the United States out front on the side of change and democratic ideals – or do the uncertainties and dangers apparent across the region warrant a more cautious, behind-the-scenes approach?
Proponents of an activist US approach tend to be foreign-policy idealists who believe America should be leading the way in the spread of universal values and democracy in the region. The former officials and pundits in this corner compare Mr. Obama's actions so far with the "freedom agenda" and approach of former President George W. Bush – and find Obama's actions wanting.
On the other side are foreign-policy realists who say Obama has to balance the longstanding American goal of a more democratic and economically open Middle East against US national security interests such as regional stability (with one eye on oil production), nuclear nonproliferation, and counterterrorism, including denying Al Qaeda and other extremists any safe havens from which to operate.
So far Obama has responded to events in a way that is more to the liking of the second group. This week, for example, as Libya unraveled, Obama waited until Wednesday to comment on the state-sponsored violence there – and then, after calling the violence "outrageous," his emphasis was on Americans' safe passage out of the country and a multilateral approach to trying to influence the Libyan regime.
---