Rebukes to Libya mount as UN kicks it off Human Rights Council
UN General Assembly rarely castigates one of its own, even in the face of egregious acts. Ousting Libya from the Human Rights Council follows other UN actions to respond to the crisis.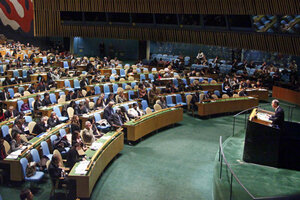 Bebeto Matthews/AP
The United Nations General Assembly took the unusual step of castigating one of its own members Tuesday when it voted to kick Libya out of the UN's Human Rights Council.
The vote in the 192-member body was by consensus, so there was no tally. But the decision appeared to be nearly unanimous. Tuesday's action, coupled with Saturday's decision in the UN Security Council to impose sanctions on the regime of Libyan leader Muammar Qaddafi and to refer Libya to the International Criminal Court, is the swiftest and broadest action in the UN on any crisis in recent memory.
The General Assembly – a body dominated by developing countries – has historically resisted taking any steps that suggest approval of interference in a country's internal affairs. Its relatively quick action Tuesday to suspend Libya's "rights of membership" in the Human Rights Council (HRC) may have come about because the move was spearheaded by six developing countries, not the United States or other Western power.
RELATED: Key cities in the Libya uprising
---