Obama wants Qaddafi out of Libya, but what is he ready to do?
Amid calls for a no-fly zone, Obama says a wide range of options are being discussed to deal with Libya. Analysts say he is in no hurry to use force, especially not unilaterally, to oust Qaddafi.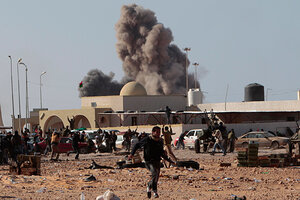 Hussein Malla/AP
President Obama says he wants Libya's Muammar Qaddafi out.
But he's also made it clear he's not about to launch anything like George W. Bush's Operation Iraqi Freedom, which rid Iraq of Saddam Hussein, or even like Ronald Reagan's bombardment of Tripoli in 1986 – no matter how many senators and neoconservatives urge him toward more forceful action. [Editor's note: The original version of this paragraph gave the wrong year for Reagan's action against Tripoli.]
Mr. Obama, who is waiting for a list of options he ordered up (from the Pentagon in particular) last week, said Monday that there continues to be "unacceptable" violence in Libya, and that NATO allies are discussing a wide range of options, including potential military measures. Defense Secretary Robert Gates will join NATO defense ministers Thursday in Brussels to discuss international options in the crisis, including the possibility of imposing a no-fly zone.
---