Why Obama isn't pushing for Yemen president to go: Al Qaeda
Obama wants Libya's Qaddafi out, and he pushed hard for Egypt's Mubarak to exit. Not so Yemen's Saleh, president for 33 years. The difference: US concern about Al Qaeda on the Arabian Peninsula.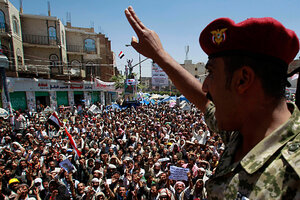 Khaled Abdullah/Reuters
With Yemen looking like it could be the Middle East's next domino, the United States faces one of the bigger challenges of the region's ongoing revolution.
President Obama has come down on the side of protesting populations more or less quickly as uprisings have mushroomed from Tunisia to Egypt and beyond. But Mr. Obama has refrained from joining Yemeni protesters and one-time government loyalists in calls for President Ali Abdullah Saleh to step down. The reason can be largely attributed to an acronym: AQAP.
That is the abbreviation for Al Qaeda on the Arabian Peninsula, the Al Qaeda offshoot that has directly targeted US soil – remember the Christmas Day bomber of 2009 and last year's package bombs destined for the US – and that makes stability or chaos in Yemen a US national security interest.
"The places to be worried about are the north and into the east of the country, places that are fairly ideal for people who wish us ill to congregate," says Charles Dunbar, a former US ambassador to Yemen who now teaches international relations at Boston University.
---