US gets its wish: NATO to assume control of Libya no-fly zone
NATO's agreement to take over no-fly operations in Libya fulfills Obama's promise that US involvement would be limited. Alliance members authorize a 'civilian protection mission.'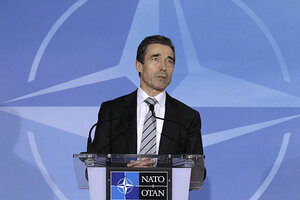 Yves Logghe/AP
NATO countries agreed Thursday to a plan that will allow the United States to hand over command and control of the no-fly zone in Libya.
A last-minute objection by Turkey on what it feared would be a broad interpretation of a mandate to protect Libyan civilians put off at least once an announcement by NATO Secretary General Anders Fogh Rasmussen that agreement had been reached.
But by Thursday night, Mr. Rasmussen announced at NATO headquarters in Brussels that all of the alliance's 28 member states had agreed to NATO taking over responsibilities for the United Nations-authorized no-fly zone.
In Washington, Secretary of State Hillary Rodham Clinton confirmed the transfer of command and control to NATO and said members of the alliance had agreed to authorize NATO authorities to undertake a "broader civilian protection mission." The precise terms of that mission, however, will be defined in the coming days.
---