Obama on Libya: The dawn of a foreign policy doctrine?
Libya may have been less a precedent than a case study in the president's blend of pragmatism and idealism.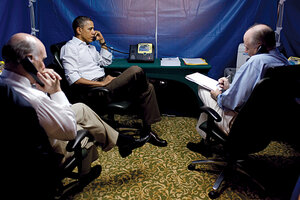 Pete Souza/The White House
When President Obama gathered his national security team in the White House situation room on March 15, the question on the table was Libya – to intervene, or not to intervene.
The debate was furious between the proponents and the skeptics of the United States undertaking a military operation – simply put, a war – in yet another Muslim country.
In the heated White House discussion, proponents of action against Libyan leader Muammar Qaddafi warned of a pending bloodbath in the rebel-held city of Benghazi if nothing was done. Skeptics warned of unforeseen consequences and a slippery slope to deeper involvement.
Ultimately Mr. Obama gave the green light, and the US led the first week of airstrikes that culminated in the establishment of a no-fly zone before turning over international command and control to NATO. Addressing the nation on March 28, the president said the US had a "responsibility to act" to prevent a humanitarian disaster that would have "stained the conscience of the world."
For America to stand by and watch a massacre "of our fellow human beings," he added, would have been a "betrayal of who we are."
Obama's decision to intervene has led to speculation over the dawning of an Obama doctrine. Was Libya setting a precedent for future military actions under this president when other despots turned their guns on their own people?
The answer would seem to be a clear "no." In explaining his decision on Libya, Obama has emphasized how "unique" the Libyan case is as much as he has made the case for international action.
---