Will Fukushima crisis chill civilian nuclear energy deals?
Experts warn that Fukushima should sound an alarm on the safety and security dangers inherent in the spread of civilian nuclear fuels and the proliferation of nuclear technology.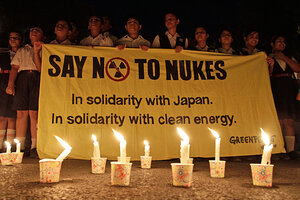 Ajit Solanki/AP
A year after President Obama's landmark nuclear security summit brought dozens of world leaders to Washington, global powers are making progress at locking down unsecured nuclear materials, some experts say.
But at the same time, others caution that the Fukushima nuclear disaster in Japan should put the world – including the United States – on notice about the dangers of spreading nuclear energy technology around the globe.
"We're going to have a pause in the growth and expansion [of nuclear power] of a decade at least" as a result of the Japanese nuclear accidents, says Henry Sokolski, executive director of the Nonproliferation Policy Education Center (NPEC) in Washington. "This pause is something that people who want to keep open the nuclear power option have to use to address the very real safety issues," he says.
Top 10 most nuclear-dependent nations
The US is in varying degrees of discussion with a number of developing countries – ranging from Jordan and Vietnam to Saudi Arabia – on agreements that would open the way for those countries to acquire a civilian nuclear-power-generation capability.
---