US resists pressure from Europe's hawks to boost role in Libya fight
France and Britain, displeased with pace of operations to check Qaddafi in Libya, want the US and other NATO members to step up their roles. NATO foreign ministers meet Thursday in Berlin to assess the mission.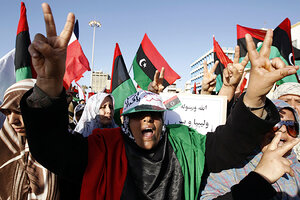 Amr Abdallah Dalsh/Reuters
Call them the Euro-hawks – the European military powers pressuring the United States and other NATO members to play a more aggressive role in the Libya fight.
As NATO foreign ministers including Secretary of State Hillary Rodham Clinton prepare to meet in Berlin Thursday, France and Britain are expressing displeasure at the pace and intensity of NATO-led operations in Libya.
Paris and London are criticizing the Alliance for not doing enough to stop attacks on civilians by forces loyal to Libyan leader Muammar Qaddafi. They are including Washington in their criticism, suggesting that the US should consider returning its air power to help enforce the no-fly zone over Libya, a United Nations-sanctioned action.
IN PICTURES: Libya conflict
The Obama administration's response, coming through the Pentagon and State Department, is to express overall satisfaction with NATO's Libya performance and to play down the need for additional air forces – specifically American forces – to reinforce the mission.
---