US aid to Libyan rebels: How effective are nonlethal supplies?
As NATO allies send military advisers to Libyan rebels, Obama approves direct US aid in the form of nonlethal supplies. Will that be enough to prevent a humanitarian disaster?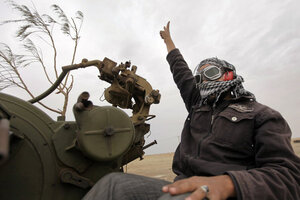 Ben Curtis/AP
President Obama has approved the first direct US aid to the Libyan rebels.
But even as three of America's NATO partners – Britain, France, and Italy – announce plans to dispatch military advisers to aid the rebels, the White House is emphasizing that the US assistance will be strictly nonlethal in nature.
With the fate of many Libyans growing darker by the day, however, some regional analysts say nothing short of a more aggressive international effort will prevent an ensuing humanitarian disaster – the very thing international involvement was supposed to stop.
RELATED: Libya uprising's key cities
Mr. Obama has informed Congress the US will be sending $25 million worth of mostly surplus Pentagon supplies – tents, boots, and medical supplies, for example – to the rebels fighting Libyan leader Muammar Qaddafi. But the White House was apparently so concerned that any supplies not be construed as lethal or as supplying the rebels with arms, that supplies like vehicles and fuel storage tanks were pulled from the list.
---