Al Qaeda on the ropes? Little Arab outrage over Osama bin Laden's death.
Osama bin Laden's death stirred little open anger in the Arab world – a sign to some experts that, in the 'battle of competing narratives,' US pro-democracy rhetoric is trumping Al Qaeda terror.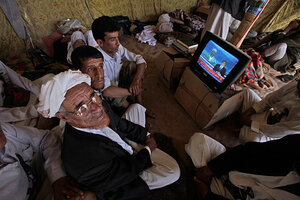 Muhammed Muheisen/AP
Since 9/11, Al Qaeda and the United States have been at war not only in Iraq and Afghanistan, but also in what one expert calls a "battle of competing narratives" across the Middle East. On one side, the US has promoted a vision of change through democratic principles, while Al Qaeda has sought to topple hated regimes through violence and terror.
Now, Osama bin Laden's death may be a decisive blow to the Al Qaeda ideology, which was already marginalized and falling further out of favor in the wake of the Arab Spring, regional experts say.
On Monday in Yemen, for example, organizers of rallies aimed at bringing down the autocratic regime of President Ali Abdullah Saleh cautioned fellow protesters against holding aloft images of Mr. bin Laden. "We are not working with Al Qaeda and Osama bin Laden. We have one cause and it is the fall of the regime," one protester in Sanaa told Reuters.
Moreover, on Facebook, movement organizers implored followers not to "raise pictures or banners or mention bin Laden" in a manner that could be exploited by the Saleh regime.
---