Tough US question for Pakistan: How did Osama bin Laden hide in plain sight?
The positive spin emanating from Pakistan and the US after Osama bin Laden's death barely masks the recent lack of cooperation and deep mistrust between the countries.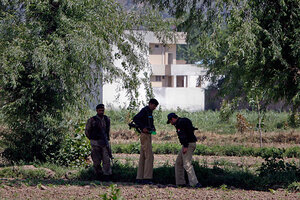 Faisal Mahmood/Reuters
The accolades between the United States and Pakistan were fast and effusive over the US military operation that killed Osama bin Laden Sunday in Pakistan.
But only the days and months ahead will tell if the mutual praise was simply a temporary glow in a deeply troubled relationship between the US and the country that remains, even with the terror figure's death, the epicenter of Islamist extremism.
One particularly gnawing question for the US, some analysts say, will be: How is it that Pakistani officials insisted for years that Mr. bin Laden was not on their territory, even as he built and inhabited a huge, walled compound in a city outside the country's capital that is home to the Army's military academy and many high-ranking Pakistani military officials?
"Why was Osama bin Laden able to live, and apparently for some time, in a mansion so close to a military garrison in a major city?" says Lisa Curtis, senior research fellow for South Asia at the Heritage Foundation in Washington. "That's the type of question the Pakistanis are going to have to face as the two countries assess all the implications of this operation."
---