The bin Laden effect: How the Al Qaeda leader changed America
In life, Osama bin Laden made a huge impact on the US, all in the name of preventing another 9/11. If he and Al Qaeda fueled antagonism between the US and the Muslim world, they also pushed America toward a better understanding of the Middle East.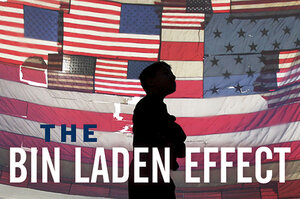 AP Photo/John Kehe staff illustration
Osama bin Laden's body was washed, wrapped in a white sheet, and placed in a weighted bag. A Navy officer made religious remarks that were translated into Arabic by a native speaker. Then a board tipped up and the body slipped the few feet from a lowered aircraft carrier elevator into the sea. In moments it was gone.
For the United States of America the question now may be whether an era that began on 9/11 ended as the eddies stilled and the ocean closed over the corporeal remains of Al Qaeda's leader.
In life, Mr. bin Laden made a tremendous impact on the US. There's no denying that. The devastation and deaths he orchestrated 10 years ago led the nation to spend more than a trillion dollars, by one estimate, to erect a homeland security apparatus alone.
US leaders have pursued two Middle Eastern wars, wiretapped citizens without warrants, forced everyone to take off their shoes at the airport, and poured water down the faces of detainees strapped to a board – all in the name of preventing another 9/11.
Did bin Laden succeed in luring the US and the Muslim world into greater mutual antagonism? Perhaps. Yet the bin Laden decade may also have produced an important shift in the horizons of America's interests. The US government has poured money and people into trying to understand the Middle East. At the least this may help the nation adjust as Arab street revolutions burst from the chrysalides of old regimes to remake the region.
---