Why the world is quiet as Syria crackdown continues
The US vows to step up pressure on Syria to stop backing the extremist group Hezbollah, but it has done little to stop President Bashar al-Assad's crackdown on protesters.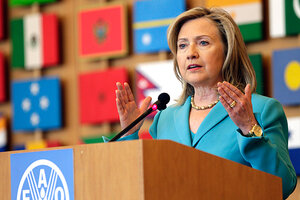 Pier Paolo Cito/AP
The United States on Monday suggested it is using the current weak position of the Syrian government on the world stage to try to pressure it into dropping its support for Hezbollah, the extremist organization in Lebanon.
In an interview with the US-funded Radio Sawa, US Ambassador to Syria Robert Ford said the US is demanding from the Syrian government that it immediately cease its assistance to Hezbollah and treat Lebanon as a friendly and sovereign country.
Aside from that development, however, the US – like much of the international community – appears to have adopted a muted response to Syria in the wake of its continuing crackdown on dissidents.
Officially, the Obama administration says that unlike Libya's Muammar Qaddafi, President Bashar al-Assad still has time to reverse his repressive stance and undertake the political reforms he has promised.
Behind the scenes, however, the US and other countries worry about the repercussions if Mr. Assad were to fall. Moreover, they doubt that the international community would unify against President Assad.
---