The bin Laden wives: latest pawns in US-Pakistan strife
Pakistan's on-again, off-again permission for the CIA to interview Osama bin Laden's wives points to continued strife between the US and Pakistan. Sen. John Kerry is set to visit there soon.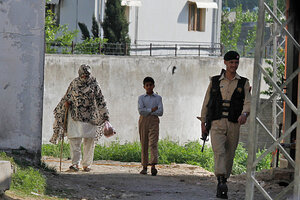 Anjum Naveed/AP
With stalled access to Osama bin Laden's wives only the latest manifestation of tension in the US-Pakistan relationship, US Sen. John Kerry is set to visit Pakistan in coming days to try to put the two countries back on a more cooperative path.
The matter of CIA access to the three bin Laden wives – who were detained by the Pakistanis after the US raid May 1 that resulted in the Al Qaeda leader's death – had not been resolved by the end of Tuesday, with the US still unclear about if and when agents would be able to question the women.
Initial reports were that Pakistan had granted access to the women, but they were soon replaced by signs of wavering out of Pakistan. Then came claims from Islamabad that it had received no "formal" request for access to the wives – all pointing to further evidence of soured relations.
White House spokesman Jay Carney said Tuesday that the US is "optimistic that cooperation will continue with regards to access to Mr. bin Laden's wives." US intelligence officials posit that, among other things, the women might have useful information concerning whom bin Laden communicated with and who locally knew of the Al Qaeda leader's residence in the walled compound.
---
Follow Stories Like This
Get the Monitor stories you care about delivered to your inbox.