Sen. Mitchell steps down as Middle East envoy. Was it a 'mission impossible'?
The White House says Obama, who lauded Sen. Mitchell as a 'tireless advocate for peace,' remains committed to addressing the issue. He meets with the Jordanian and Israeli leaders next week.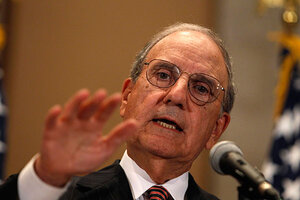 Ammar Awad/Reuters/Files
President Obama's Middle East envoy, former Sen. George Mitchell, is stepping down, the White House announced Friday – a move that highlights the glaring lack of progress in what was once Mr. Obama's top foreign-policy priority, Israeli-Palestinian peace.
The departure of Senator Mitchell, known for brokering a Northern Ireland peace accord under the Clinton administration, also suggests the waning of Obama's early fancy for special envoys to address key international issues.
The White House said Friday that Mitchell is stepping down for personal reasons, but that the president remains committed to addressing one of the thorniest issues in US foreign policy.
"This president's commitment remains as firm as it was when he took office," spokesman Jay Carney said in announcing that Obama would have a statement Friday on Mitchell's resignation. "The fact that this is a hard issue, an extraordinarily hard issue, is not news to anyone in this room or anyone who's ever attempted to work on it over these many years."
But the seasoned diplomat's departure couldn't help but be linked around Washington with the fruitlessness of the more than two years Mitchell dedicated to his task.
---
Follow Stories Like This
Get the Monitor stories you care about delivered to your inbox.