Obama's Middle East goal: Tie US policy closer to American values
Obama's insistence that US policy in the Middle East support, rather than thwart, popular yearnings for self-rule is a warning to autocrats in the region – and marks an 'update' since his Cairo speech.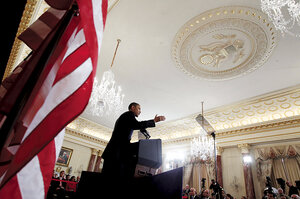 Charles Dharapak/AP
Five months into the Arab Spring, President Obama is honing his Middle East strategy with an update to the "new beginning" he proposed for US-Arab relations nearly two years ago in Cairo.
Among the points the president is underscoring: Patience with tyrants is running short – even in cases, like Syria, where fear of an unknown alternative has moderated diplomatic pressures. The Israeli-Palestinian conflict is not isolated from the changes sweeping the region but demands a solution all the more because of it. And political actors in the new Middle East will be judged more on their actions than on affiliations and past positions.
This last point signifies that, in a region that largely rejected the ideology of Osama bin Laden even before his death at US hands earlier this month, political Islam will not be rejected by the US out of hand.
In a much-anticipated speech in Washington May 19, the president insisted that US policy in the Middle East will be designed to support – rather than thwart – the same popular yearnings for self-rule and prosperity that built America and produced what are now universal values.
Gone is the tipping of the hat to Arab autocrats that has accompanied decades of American calls for expanded political freedoms and economic opportunities in the region. "After decades of accepting the world as it is in the region, we have a chance to pursue the world as it should be," Mr. Obama said. "It will be the policy of the United States to promote reform across the region and to support transitions to democracy."
---