New US sanctions target Iran's refined petroleum imports for first time
Analysts say the new US sanctions – seen as a move to weaken Iran's economy – are the Obama administration's response to critics in Congress who say the US has been slow to get tough.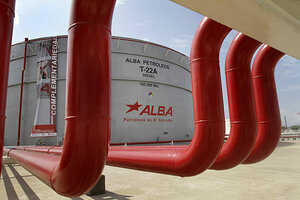 Luis Romero/AP
The United States is for the first time imposing sanctions designed to hit Iranian imports of refined petroleum products including gasoline.
The measures announced Tuesday against seven companies supplying Iran – including the Venezuelan giant PDVSA and an Israeli shipping firm – are seen by some foreign-policy analysts as the Obama administration's response to Capitol Hill critics who say the US has been slow to get tough on Iran in a meaningful way.
The US action was announced the same day the United Nations' nuclear watchdog agency, the International Atomic Energy Agency, circulated a report claiming continued progress in Iran's nuclear enrichment program. The report, to be reviewed at an IAEA meeting next month, also cites evidence that Iran diverted elements of its nuclear program to research in military applications as recently as last year.
The US has imposed a series of sanctions on Iran in the past – the most recent following the UN Security Council's passage of a fourth sanctions resolution against Iran last June. But the focus of those measures has been Iranian companies, banks, and individuals found to be associated with the country's nuclear program.
---