Obama calls for 'patience and persistence' in Libya. Congress calls foul.
In London, President Obama and Prime Minister David Cameron praised the NATO mission in Libya, even as US legislators condemn Obama's disregard of the War Powers Act.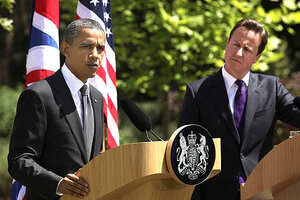 Peter MacDiarmid / AP
Both President Obama and British Prime Minster David Cameron said in London Wednesday that NATO's military campaign in Libya is going "extremely well" – though apparently not well enough to meet its goals and end any time soon.
Speaking after two days of showcasing the "essential" US-UK relationship, the two leaders said after a barbeque at 10 Downing Street that more "patience and persistence" will be required in the international coalition's two-month-plus air campaign against Libyan leader Muammar Qaddafi.
The call for patience contrasted with early assumptions. When a US-led bombing campaign was launched against Colonel Qaddafi's forces March 19, most believed that the Libyan regime's remaining days were few. More than 60 days later, protests are mounting in Congress over Obama's failure to secure congressional approval for the Libyan campaign as called for in the War Powers Act.
Both Mr. Obama and Mr. Cameron said that while the mission's objective – as laid out in a March United Nations Security Council resolution – is to protect Libyan civilians and not explicitly "regime change," they could not imagine how the mission could end without the departure of Qaddafi.
"Time is working against Qaddafi, and he must step down from power and leave Libya to the Libyan people," Obama said. "It is impossible to imagine a future for Libya with Qaddafi still in power," Cameron said for his part. "He must go."
---