Karzai warns NATO over air strikes, but are there other options?
Afghan leader Hamid Karzai issues another ultimatum over deadly air strikes. But a shift in NATO strategy might result in even more civilian casualties.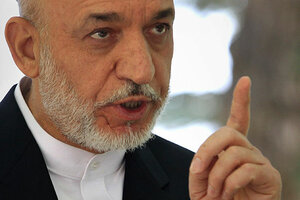 Musadeq Sadeq/AP
Afghan President Hamid Karzai, following his most recent broadside against NATO's operations in his country, might want to consider the old admonition to be careful what you wish for.
On Tuesday Mr. Karzai said that NATO air strikes targeting Afghan houses must stop, or the international military operations led by the United States will be considered "an occupying force" in the country "against the will of the Afghan people."
Karzai has issued such ultimatums before, particularly in response to incidents of civilians dying in NATO operations. But this one comes as the White House launches into a review of Afghan policy that will decide the size and tempo of a drawdown of US troops set to begin in July.
After the surge of 30,000 troops into Afghanistan that President Obama opted for in December 2009, some officials and experts in Afghan policy say the president could now choose to shift toward a policy that Vice President Joe Biden preferred all along: one that relies more on air power and special operations forces, and much less on thousands of soldiers on the ground.
Such a shift to what some call a "stand off" strategy might indeed lighten the sense of "occupation" that Karzai refers to, but increased reliance on air power could mean more of the kinds of incidents that Karzai was reacting to Tuesday.
---