Why Russia might veto a UN resolution to condemn Syria crackdown
France is expected to forward the resolution to the Security Council Wednesday. But Russia worries that the resolution could be used to intervene in Syria as NATO did in Libya.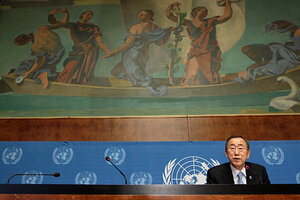 Denis Balibouse/REUTERS/File
The United Nations Security Council will consider a French proposal Wednesday afternoon formally to condemn the Syrian regime of President Bashar al-Assad over an increasingly bloody crackdown on dissidents.
The discussion and eventually a vote by the council on a resolution signals Syria's growing isolation from the international community, which is losing patience with President Assad over his dual track of promising political reforms while stepping up repression.
But passage of a resolution by the 15-member Security Council has been thrown into doubt by Russia, which feels burned by how Western powers have interpreted a March resolution targeting Libyan leader Muammar Qaddafi as a green light for NATO's military mission in Libya. As one of five permanent members of the council – along with the US, France, Great Britain, and China – Russia has veto power over council actions.
European officials say the aim of a resolution is not to open the way to another military intervention, but to send a strong message to Assad that the state-sponsored violence must stop. A resolution would also provide the basis for the European Union, and perhaps others, to proceed to additional economic sanctions against Syria.
---
Follow Stories Like This
Get the Monitor stories you care about delivered to your inbox.