Iran accelerates uranium enrichment: Danger or bluff?
Western experts aren't sure why Iran is speeding up its nuclear enrichment. Is it bravado for domestic political consumption or a genuine move toward developing weapons that can be hidden from attack?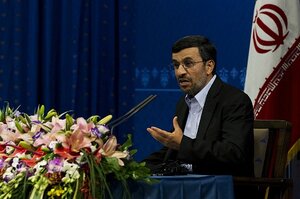 Caren Firouz/Reuters
Iran's announcement this week that it plans to speed up its enrichment of uranium – and to move part of its enrichment process from the desert to a more defensible mountain site – has spawned wide-ranging speculation on Tehran's nuclear intentions.
If Iranian officials made the point of publicly announcing the plans after a ministerial meeting Wednesday, the intention was to promote the world's gradual acceptance of Iran eventually developing a nuclear weapon, some nuclear experts say.
Another line of thinking is that the plans to develop more efficient and higher grade uranium-producing machines at a site inside the mountains near the city of Qom suggest the Iranians are preparing their program to be able to withstand an eventual attack by Israeli or American bombers.
Speculation aside, what seems clear is that Iran is intent on accelerating production of what is currently its highest grade of uranium – 20 percent enriched – to expand its options in the face of international demands that it cease enrichment altogether.
"They're shortening their decision time" between amassing the enriched uranium it would take to begin building a nuclear weapon and actually moving forward with building one, says Henry Sokolski, executive director of the Nonproliferation Policy Education Center in Washington.
---