As West labors in Libya and Syria, Russia seizes an opportunity
The military stalemate in Libya and the diplomatic hesitation over condemning Syria have created an opportunity for Russia to present itself to the Middle East as the un-NATO.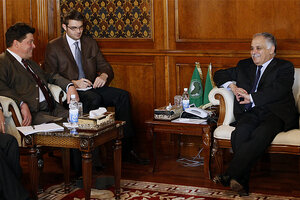 Ivan Sekretarev/AP
With the West, including the United States, stuck in a military stalemate in Libya, Russia is busy offering itself to the region as the un-NATO.
Just weeks after abstaining (rather than vetoing) a United Nations Security Council resolution authorizing the use of force in Libya, Russia is now pressing for a diplomatic solution to replace military intervention in Libya.
And Russia modeling itself to the region as an alternative to an interventionist West does not stop there.
It also is balking at a Europe-sponsored and US-backed UN resolution on Syria it says it fears would be used as a pretext for more military action. And this week it teamed up with China to castigate the West for overstepping bounds the two countries said have been set by the United Nations.
The Russians "suddenly see an opportunity for themselves in the Middle East," says Paul Saunders, a Russia specialist at the Center for the National Interest in Washington.
---