Rising world food prices: Can a G20 'action plan' prevent a crisis?
The last spike in global food prices was marked by rioting. With prices again on the rise, G20 agriculture ministers are meeting in Paris and are expected to adopt an 'action plan.'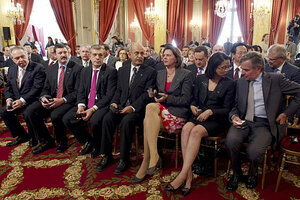 Lionel Bonaventure/Reuters
The last time global food prices rose sharply, in part as a result of food shortages, deadly riots shook developing countries across three continents.
Food prices are once again on the rise – in the wake of causes ranging from severe weather in some of the world's principal grain baskets to a flurry of food export controls passed after the 2008 food riots. And this week G20 agriculture ministers are gathering in Paris for a first-ever global effort to address the fast-rising issue of food security and food prices.
The meeting of developed- and developing-world agriculture ministers is not likely to solve the food-price conundrum in one two-day conference, farm experts say. But with the world's population on track to reach 9 billion by 2050, and food production facing new challenges, these experts say the meeting is, if nothing else, evidence that food security, like global warming, is an issue that's not going away.
"In any scenario, just having the G20 agriculture ministers playing a role has been an important innovation and demonstrates how seriously global leaders are taking these issues around food security," says Maximo Torero, director of the markets, trade, and institutions division of the International Food Policy Research Institute (IFPRI) in Washington. "It's an ongoing process, but I think we'll see these issues stay at the top of the global agenda."
---