In Afghanistan war, US civilian surge peaks as Pentagon begins pullback
While President Obama has laid out a path for reducing US military involvement in the Afghanistan war, Secretary of State Hillary Rodham Clinton says the civilian surge of 1,100 engineers, aid workers, and diplomats is only now hitting top gear.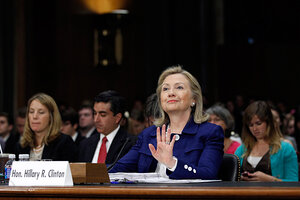 J. Scott Applewhite/AP
A day after President Obama declared in his Afghanistan war speech that "it is time to focus on nation-building here at home," Secretary of State Hillary Rodham Clinton was on Capitol Hill trying to rally support for maintaining a significant nation-building program in Afghanistan.
The United States has tripled the number of civilian-assistance workers and diplomats in Afghanistan since the beginning of the military "surge" in January 2010 – to more than 1,100.
What has been called the "civilian surge" was also part of Afghanistan commander Gen. David Petraeus's counterinsurgency "secure-hold-build" strategy: secure territory, establish a presence to hold on to it, and build up institutions of the state to inoculate local populations against the Taliban's return.
Secretary Clinton gave no hint in her Senate Foreign Relations Committee testimony Thursday of how a shrinking military presence would affect the American civilian operation in Afghanistan. But she did suggest that the civilian surge has reached its maximum – even as she outlined a justification for keeping US civilian experts, ranging from agronomists to judicial and local-governance specialists, in Afghanistan for years to come.
---