Independence Day blues? Americans sense a decline and look inward.
A poll on the eve of Independence Day confirms: More Americans see the nation as less powerful and more vulnerable. They want leaders to focus less on the world and more on challenges at home.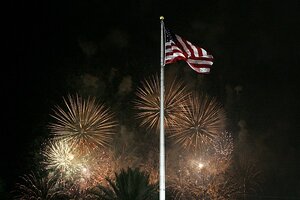 Newscom
As they fire up their grills and light their kids' sparklers this Fourth of July, Americans are feeling less and less like their country is the world's sole remaining superpower.
And with their sense of threat from overseas waning, they want their leaders to focus more on challenges at home, including the economy – and less on entangling the United States in the world's affairs.
Those are among the findings of a new poll released on the eve of this Independence Day weekend by Time magazine and the Aspen Institute's Aspen Ideas Festival.
The poll – which finds that more than two-thirds of Americans consider the last 10 years to have been a decade of decline for America – is in sync with other surveys of American opinion in recent months. According to the poll, three-fourths of Americans say economic weakness poses a bigger danger to the US than do national security threats.
In May, a Pew Research Center poll found that majorities in every partisan group of the population – including, for the first time in the decade of 9/11, conservative Republicans – agreed with the statement that the US "should pay less attention to problems overseas and concentrate on problems here at home."
Other recent Pew polls have found Americans' "mind-our-own-business" thinking at its highest level since the end of the Cold War.
---