Did Syria order mob attacks on embassies? And how should US respond?
Protesters attacked the US and French embassies in Damascus after the countries' ambassadors visited the symbolically key city of Hama. Did Syria allow the attacks or order them?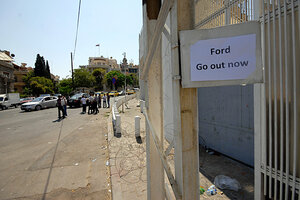 AP
Already-tense relations between the United States and Syria deteriorated further Monday after anti-US protesters attacked and damaged the US Embassy in Damascus.
The mob attack, which followed days of angry demonstrations outside the US and French embassies in the Syrian capital, was the most serious turn to date in several months of souring relations as opposition forces have continued to challenge the regime of President Bashar al-Assad.
A State Department spokesperson said elements in Syria aligned with the government had "encouraged" the attack, while the government had been "slow to respond" to the violence. The official also noted the Syrian government's responsibility under international law to protect diplomatic facilities.
But other diplomatic experts went further, saying that if the US Embassy in Damascus was able to come under attack, it was because the government wanted the attack to happen.
"This is essentially a government act," says Wayne White, a former State Department official who is now an adjunct scholar with the Middle East Institute (MEI) in Washington. "Normally the government doesn't want things to happen to foreign embassies, and this is a very controlled society," he says. "So at the very least they have to allow this kind of thing to happen."
---
Follow Stories Like This
Get the Monitor stories you care about delivered to your inbox.