Famine in the Horn of Africa: why the world is slow to respond
Millions of lives are at stake in the drought and famine in East Africa, but aid is hampered by security concerns in Somalia and donors surprised by the severity of the crisis.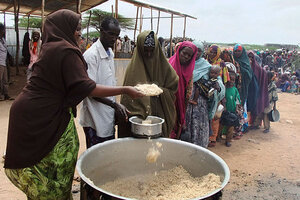 Farah Abdi Warsameh/AP
Despite an estimated 12 million lives hanging in the balance, international food aid has been slow to arrive to strife-stricken Somalia and neighboring countries caught in the grip of what is now being called East Africa's worst drought in 60 years.
Causing the holdup: security concerns and an international community caught off guard by the severity of the drought.
On Tuesday the United Nations' World Food Program put off for at least a day the start of an airlift of emergency provisions into various sites in the bone-dry Horn of Africa. In addition, an international donors' conference set for Wednesday in Nairobi was abruptly canceled, according to Oxfam officials, the two setbacks underscoring the difficulties Somalia relief plans have encountered.
The UN declared last week that famine conditions exist in two regions of southern Somalia, putting more than 3 million Somalis there at risk of starvation. The UN also declared an emergency humanitarian crisis throughout the Horn of Africa, as thousands of Somalis leave their homes every day in search of food either in the capital, Mogadishu, or across the border in Kenya and Ethiopia.
---