US-North Korea nuclear talks: Why return to the table now?
US and North Korean negotiators will meet in New York this week to discuss North Korea's nuclear program. The US wants to head off any provocative actions from the North.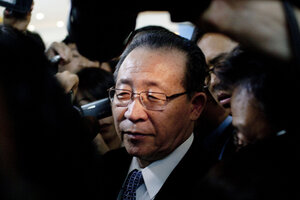 Andrew Burton/AP
The two-way talks the United States will hold with North Korea in New York later this week have the announced purpose of gauging Pyongyang's seriousness about resuming long-stalled negotiations on its nuclear-weapons program.
But in announcing what she says will be an "exploratory meeting," Secretary of State Hillary Rodham Clinton left unmentioned what may be the US's primary motivation: a desire to head off any new military provocations by a regime that tends to lash out when it is feeling ignored.
Last year the North brought the Korean Peninsula to the brink of war when it sank a South Korean warship, killing 46 sailors, and shelled a South Korean island near the two Koreas' border. The spate of violence came a year after the six-party talks on the North's nuclear program broke off, leaving Pyongyang further isolated.
US officials have been publicly and privately expressing their mounting concerns that the North may be contemplating more provocative acts to get back on the global agenda – and perhaps to extract some economic favors.
Secretary Clinton, who was traveling in Asia earlier this week, met for four hours Tuesday with Chinese State Councilor Dai Bingguo, and afterward State Department officials said Clinton had stressed with Mr. Dai US concerns about further destabilizing acts by North Korea.
---