Can US Libya strategy survive the assassination of rebels' top general?
The assassination of Gen. Younis is a major challenge to the rebels – and to the strategy of the US and others who recognized the rebels as Libya's government and must stay the course.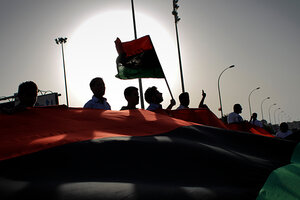 Sergey Ponomarev/AP
The intrigue and unanswered questions that continue to swirl around the assassination last Thursday of the Libyan rebels' top general are raising questions about the control the rebels have over their own movement.
At the same time, the rebels' turmoil casts fresh doubt in some eyes on the wisdom of the United States, Britain, France, and more than two dozen other countries, who officially recognized the rebel governing body, the Transitional National Council (TNC), as Libya's legitimate government.
The assassination of the chief of staff of the TNC's armed forces, Gen. Abdel Fateh Younis, was just as murky Tuesday as when it happened. Rumors are proliferating as to whether the killing came at the hands of rebels suspicious of General Younis's loyalties, disgruntled tribesmen, or a cell of loyalists to Libyan leader Muammar Qaddafi tasked with taking out the former Qaddafi confidant.
One theory postulates that the killers received orders embedded in reports on Libya state television in Tripoli.
About the only undisputed point is that the Younis assassination reveals the tenuous control the TNC maintains over its forces, as well as over events in its capital of Benghazi on Libya's eastern edge.
Yet as true as that may be, the international community has little choice but to stick with the path it's chosen and continue to work with the rebel government, some regional experts say.
---