Would Al Shabab agree to humanitarian corridors in Somalia?
Rep. Christopher Smith wants the US to press for 'corridors of tranquility' to get aid to famine-stricken south Somalia. But that would mean negotiating with Al Qaeda-linked Al Shabab.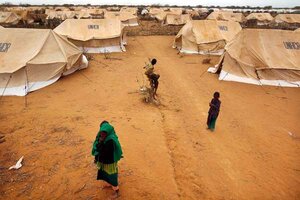 Jerome Delay/AP
A congressman with longtime interest in humanitarian affairs is proposing that the United States take the lead in establishing "corridors of tranquility" into rebel-held southern Somalia to get urgently needed food and other assistance to the famine-stricken region.
With an estimated 30,000 children already dead and as many as 2 million Somalis in southern Somalia under threat of starvation, Rep. Christopher Smith (R) of New Jersey said Friday that the Obama administration should press the international community on opening humanitarian corridors.
The proposal would involve negotiating with the Islamist extremist organization Al Shabab, however, since the Al Qaeda-linked group controls much of the areas the United Nations says are suffering from famine.
Congressman Smith said he has sent a letter to the Obama administration with the proposal and is awaiting a response.
Al Shabab has been on the US list of foreign terrorist organizations since 2008, and US laws prohibit any relationship or activity that might benefit the group. Humanitarian organizations have cited those regulations as a chief cause for the steep drop in US assistance to Somalia that some experts say has exacerbated conditions there.
---