Should Obama call for Syria's Assad to go? And would it matter?
As the White House presses Syria to halt it's brutal repression of dissent, it is considering calling for Assad to step down. While it is not clear how effective that would be, Obama may have little choice.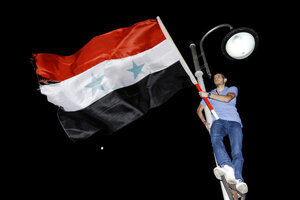 Muzaffar Salman/AP
The Obama administration is beginning to turn up the pressure on Syrian President Bashar Assad in an attempt to stop the brutal tank-led repression of Syria's civilian protest movement.
On Wednesday the US Treasury Department announced that it has added the Commercial Bank of Syria, the nation's largest, as well as leading cell phone operator Syriatel to its sanctions list. Any assets these institutions have in the United States will be frozen, and US banks are now banned from doing business with them.
"We are taking aim at the financial infrastructure that is helping provide support to Assad and his regime's illicit activities," said David Cohen, Treasury undersecretary for terrorism and financial intelligence, in a statement announcing the move.
The new sanctions listing may not have a large practical effect, given that the US already severely limits economic interaction with the Assad regime. But the administration is also reportedly considering a further step: an explicit call for Mr. Assad to step down.
According to White House officials who spoke with the Associated Press, the decision to end its attempt to push the Syrian regime towards reform, and call for its end instead, is the result of the increasing ferocity of Syrian security forces towards hotbeds of opposition. More than 2,000 people have been killed in the crackdown on dissent, human rights groups say.
---