Why it took so long for Obama to say Syria's Assad must go
Obama's call for Syrian President Bashar al-Assad to resign was a long time coming. The US president didn't wait as long after protests broke out in Egypt to say that Hosni Mubarak had to go.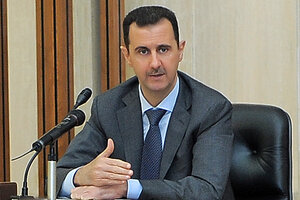 SANA/AP
President Obama on Thursday called on Syrian President Bashar al-Assad to resign due to his continued brutality against his own restive population.
Mr. Assad's call for dialogue rings hollow at a time when he is unleashing tanks and attack helicopters against peaceful protesters in Hama, Deir al Zour, and other Syrian cities, said Mr. Obama.
"We have consistently said that President Assad must lead a democratic transition or get out of the way. He has not led. For the sake of the Syrian people, the time has come for President Assad to step aside," said Obama in a statement.
The move was the toughest action yet taken by the administration against the increasingly embattled Assad regime. It was accompanied by new sanctions that freeze all Syrian government assets within the United States and prohibit US firms from dealing in any way in Syrian oil.
In addition, it was part of a coordinated verbal and legal multinational assault, as the leaders of Britain, France, Germany, and the European Union issued similar statements that Assad must go now.
But Obama's Thursday action was also a long time coming. Assad's apparent intent to hold on to power at any cost has been on display for weeks, as Syrian security forces have increased the violence of their crackdown.
The Obama administration called for the resignation of Egyptian President Hosni Mubarak fairly soon after protests arose in Egypt. Why did it take relatively longer in the case of Syria?
---