Iraq withdrawal: How many US troops will remain?
The Obama administration is considering a plan to leave about 3,000 support troops behind at the end of the year, if Iraqis agree. But reports suggest that the Pentagon is angling for more.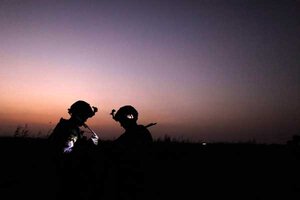 Maya Alleruzzo/AP/File
The Obama administration is considering dropping the president's commitment to withdrawing all US troops from Iraq by the end of the year in favor of keeping several thousand military trainers there.
The plan is already running into roadblocks in Iraq and in the US. In Washington, some political leaders are calling on President Obama to leave no troops behind, while others say the president should heed his military commanders on the ground and keep far more troops than the 3,000 to 4,000 he is considering.
On Tuesday, three of the Senate's big guns on military affairs – John McCain (R) of Arizona, Lindsey Graham (R) of South Carolina, and Joe Lieberman (I) of Connecticut – issued a statement criticizing the 3,000 number as "dramatically lower than what our military leaders have consistently told us … they require."
US military commanders, led by Gen. Lloyd Austin III, the senior commander in Iraq, are proposing that up to 18,000 US troops remain in Iraq after the year-end pull-out date. Currently, about 45,000 US troops are in Iraq.
The military request for a higher residual force reflects a conclusion by commanders on the ground that Iraqi security forces are not yet ready to forgo the support and guidance of a substantial US training presence. Officially, any remaining US forces would be limited to training functions, which is already the stated purpose of US troops in Iraq.
---