A UN success story: Libya's seat turned over to interim government
The Security Council followed with a unanimous vote to ease sanctions on Libya and establish a post-conflict mission as the UN prepared to celebrate Libya as something it got right.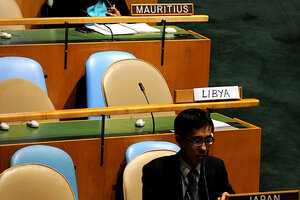 Shen Hong/ZUMA Press/Newscom
Two years after Muammar Qaddafi addressed the world from the United Nations stage, the UN's General Assembly voted Friday to turn over Libya's seat to the interim government that toppled the mercurial leader.
The Security Council followed that dramatic event by voting unanimously to ease a set of economic and arms sanctions on Libya and establish a small post-conflict mission to assist the interim government with the country's political transition.
Venezuela and a small group of leftist Latin American countries attempted to derail the General Assembly's awarding of Libya's UN seat to the anti-Qaddafi Transitional National Council (TNC), but the effort failed on a vote of 114-17.
The two steps were paving the way for Libya to become the poster child for what the UN does right at next week's opening of a new General Assembly session.
With a Palestinian bid for full UN membersip threatening to cloak the week's proceedings in a climate of confrontation, a number of world leaders including President Obama are looking to highlight Libya as an example of global progress.
"This is the UN dealing with what it does well, a post-conflict issue," says Mark Quarterman, a former UN diplomat who is director of the Program on Crisis, Conflict, and Cooperation at the Center for Strategic and International Studies (CSIS) in Washington.
---