Lauding Libya success at UN, Obama makes subtle digs at Iraq war
President Obama on Tuesday at the UN praised the international community for intervening in Libya while drawing veiled contrasts between that conflict and the war in Iraq.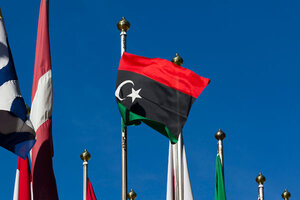 Salvatore Di Nolfi/AP
When President Obama told a United Nations high-level meeting on Libya Tuesday that the world's decision to intervene in Libya this year was both courageous and correct, the unstated comparison was to Iraq.
"Libya is a lesson in what the international community can achieve when we stand together as one," Mr. Obama said in a speech to world leaders gathered to offer support to the North African country's new transitional government.
Obama, who as a US senator opposed the Iraq war, drew veiled contrasts between the Libya case and the Iraq war, which the Bush administration launched despite intense international opposition.
The US president said that while it is not always right for outside powers to enter into a country's internal conflict, there are also times when conditions – in particular "horrific" human rights violations by a regime – demand international action.
"I said at the beginning of this [Libya] process, we cannot and should not intervene every time there is an injustice in the world. Yet it's also true," Obama added, "that there are times where the world could have and should have summoned the will to prevent the killing of innocents on a horrific scale."
Lauding the UN Security Council's March decision to authorize international protection of Libyan civilians threatened by Libyan leader Muammar Qaddafi – a decision NATO interpreted as a green light for military intervention – Obama said, "This time we, through the United Nations, found the courage and the collective will to act."
---