Stalled free trade deals now on a fast track, White House says
Three free trade deals – with South Korea, Panama, and Colombia – will be signed, sealed, and delivered by the middle of next week, predicts White House Chief of Staff William Daley. For Washington, that would be fast work.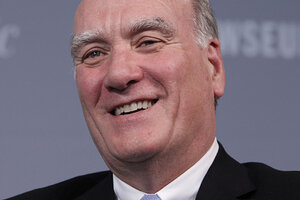 Yuri Gripas/Reuters
By the time South Korea's President Lee Myung-bak arrives at the White House for a state dinner honoring him next Thursday, President Obama will be able to present him with a ratified US-Korea free trade agreement.
That's the prediction of White House Chief of Staff William Daley, who confidently told a Washington audience of business leaders and diplomats Wednesday night that Congress will approve a package of three free-trade deals and domestic trade-impact legislation by the middle of next week.
Mr. Daley told guests at the National Foreign Trade Council's annual black-tie dinner that the four-part trade package – free trade deals with South Korea, Colombia, and Panama, plus legislation that renews funding for retraining workers who lose jobs to foreign competition – will move "across the finish line" next Wednesday.
If he's right, it will be uncharacteristically quick work for Washington, and will constitute a striking turnaround for trade deals that have languished for years.
One incentive for the Obama administration to get quick passage of the trade package is President Lee's state visit. The Korea deal is the largest US trade pact since the landmark NAFTA (the North American Free Trade Agreement) accord with Canada and Mexico. It is expected to generate about $11 billion of the total $13 billion in new US exports the administration says the three free-trade agreements (FTAs) will deliver. Obama, who fine-tuned the South Korea trade deal originally negotiated under President George W. Bush, did not want to greet his White House guest empty-handed.
---