Assassination plot: New twist in Iran's secret war with US?
The US and Iran have been fighting each other behind the scenes since the Iranian revolution in 1979. The alleged Iranian plot to assassinate a Saudi diplomat on US soil is a sign, perhaps, that Iran feels it is in danger and needs to even the score.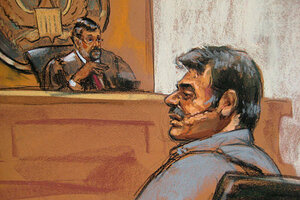 Jane Rosenberg/REUTERS
From its beginnings, the Islamic Republic of Iran has struck its enemies – even once on American soil, in a suburb of the US capital – when it felt mortally threatened.
So with Iran increasingly isolated from the international community, with tumult in the Middle East foiling Iranian designs of expanded regional influence, and with Western sanctions and covert intelligence actions taking their toll, perhaps it should not be such a surprise that elements of the Iranian regime would dream up a sensational plan for striking back and evening up the scorecard.
The foiled plot the Justice Department divulged Tuesday, in which officials of Iran's Revolutionary Guards Corps planned to have the Saudi ambassador to Washington assassinated on US soil, strikes most Iran experts as the work of a regime that feels cornered and desperate.
In that sense, the alleged plot reflects the mindset and survival strategy of a regime that has reached far to intimidate and cut down its enemies since its founding in 1979.
Some national security analysts initially described the plan as laid out by US officials Tuesday as "unprecedented" over its most brazen element: It was to have been carried out on American soil, under one scenario through a bombing at a Washington restaurant.
But it may be that the masterminds of the foiled plot were harking back to 1980, when the fledgling Iranian regime – obsessed with the threat of a counterrevolution that would bring down the Ayatollah Khomeini – took what would become a covert war with the regime's enemies to a quiet street in Bethesda, Md., just over the state line from Washington.
---