Iraq withdrawal: With US troops set to exit, 9-year war draws to close
Iraq withdrawal will occur by the end of this year, President Obama announced Friday. For the 39,000 US troops still in Iraq, withdrawal means most will be home for the holidays.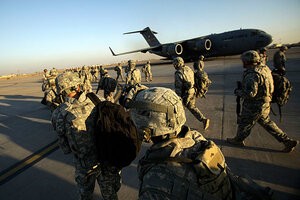 Maya Alleruzzo/AP/File
President Obama announced Friday that all US troops will be out of Iraq by the end of this year, closing a war that deposed a tyrant and much-feared regional bully – but at great cost to both Iraq and the United States.
"After nearly nine years, America's war in Iraq will be over," Mr. Obama declared at the White House. Most of the 39,000 troops still in Iraq should be "home for the holidays," the president added, although the logistical challenges involved in removing so many soldiers in such a short time could mean the final few will not leave until January.
Obama's announcement signals that US officials have been unable to negotiate with Iraq's leaders a renewal of the Status of Forces Agreement (SOFA) governing the stationing and mission of American troops on Iraqi soil. Pentagon officials in particular, backed by a number of congressional leaders, had called for leaving a force of between 3,000 and 5,000 in Iraq for an extended period.
But Iraqi officials balked at extending the immunity from local laws and prosecution that currently covers US troops in the country – US troops in places like Germany, Japan, and South Korea operate with such immunity – and the Obama administration was unwilling to leave troops in Iraq without that coverage.
Iraq's prime minister, Nouri al-Maliki, will visit the White House in December to mark the end of one era in bilateral relations and the beginning of a new one, Obama said.
---