Qaddafi death gives NATO its 'mission accomplished' moment in Libya
NATO is expected to end its military mission in Libya within two weeks following the killing of ousted Libyan leader Muammar Qaddafi – an event in which NATO reportedly played a key role.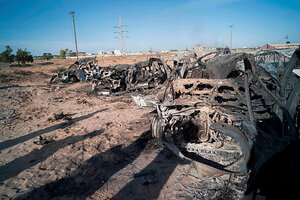 David Sperry/AP
NATO declared its military mission in Libya accomplished on Friday, a day after the alliance's air power assisted in the violent demise of ousted leader Muammar Qaddafi.
Some reconnaissance flights will continue in the coming days as the country settles into a post-Qaddafi era, military officials say, but all operations are expected to end within two weeks.
NATO ambassadors meeting in Brussels were expected to approve the recommendation of military commanders that the seven-month campaign, which provided air and maritime patrols and about 10,000 bombing missions targeting loyalist forces, should end.
In an usual turn, the NATO commander of Libya operations, Adm. James Stavridis, used his Facebook Wall Friday to announce, "I will be recommending conclusion of this mission to the North Atlantic Council of NATO." He then added, "A good day for NATO. A great day for the people of Libya."
But the decision essentially to declare "mission accomplished" and close a chapter does not mean NATO has no future role in a damaged country facing the daunting prospect of building itself from scratch.
In addition, Friday's decision leaves unanswered questions over NATO's role in Libya's war, such as whether or not the alliance overstepped the bounds of a United Nations mandate for the protection of civilians and ultimately undertook a campaign of regime change.
President Obama is touting NATO's intervention in Libya as an example of the kind of "international burden-sharing" he foresees replacing the costly, American-led model of intervention exemplified by the Iraq and Afghanistan wars.
---