Will next report on Iran nuclear program 'prove' quest for nuclear weapon?
IAEA assessment due next week is said to conclude that Iran nuclear activities point to weapon development. But it may be difficult to tell whether such activities are ongoing.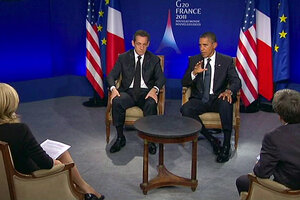 TF1/FR2/AP
Iran's nuclear program will come roaring back to the center of international attention next week when the United Nations' nuclear watchdog agency unveils a new report that is expected to offer evidence of Tehran's efforts to build a nuclear weapon.
The Iranian nuclear crisis has largely retreated from headlines since the collapse in October 2009 of an international deal for removing from Iran part of the country's growing stockpile of enriched uranium. But the report from the International Atomic Energy Agency (IAEA) in Vienna next week is likely to shift the spotlight back to Tehran.
Expect renewed talk of stronger international sanctions and revived speculation about the likelihood of an Israeli or US-led campaign of targeted strikes against Iranian nuclear facilities, some international nuclear experts say.
"The IAEA seems to have more information to come forward with on Iran, and the tone [of the agency's assessment] is harsher and harsher," says one senior Western diplomat who spoke on condition of anonymity in order to discuss an as-yet-unpublished report. If the evidence is solid of efforts to develop a deliverable nuclear weapon, the diplomat adds, "We will have to be very firm against Iran."
The agency's report, to be published in the name of IAEA Director General Yukiya Amano, is billed as an "assessment" of Iranian programs, experiments, and prototypes that in sum point to no other potential application than the construction and delivery of a nuclear weapon.
The report, to be distributed to agency member countries ahead of an IAEA Board of Governors meeting Nov. 17-18, will offer details of Iranian research in neutron physics and experiments using "uranium deuteride," some nuclear experts say – two activities that are precursors to bomb development and that have no application for civilian power or medical use.
---