Punish Iran for its nuclear secrecy? How sanctions could work.
The UN's nuclear watchdog is set to rebuke Iran over its nuclear program. No sanctions are planned, but the US will keep pushing, and some experts say diplomacy could still work.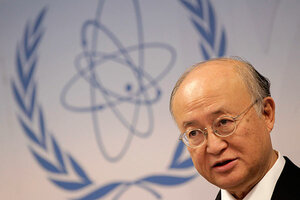 Herwig Prammer/REUTERS
World powers including the United States appear poised to issue a strong rebuke to Iran over its refusal to clarify the intentions of its nuclear program.
The strongly worded critique of Tehran is expected Friday at the close of a meeting of the United Nations' nuclear watchdog agency. It will carry the support of both China and Russia, and will thus satisfy one American objective in dealing with Iran: that the international community stand united in pressuring Iran to come clean on the aims of its nuclear activities.
What the anticipated resolution holds in terms of strong rhetoric, however, it lacks in teeth. The draft text, divulged by diplomats participating in the meeting of the International Atomic Energy Agency's Board of Governors, calls on Tehran to comply with its obligations as a signatory of the Nuclear Non-Proliferation Treaty and to agree to negotiations on its nuclear program.
But the text does not call for new international sanctions on Iran, nor does it set any deadline for Tehran to agree to negotiations or to open up on its nuclear program.
The result is that US and other Western powers will likely press forward on further actions, some experts say.
---