Resolution on Iran nuclear program hailed by US, but lacks teeth
The US lauds the 'unified message' sent by the UN's nuclear watchdog expressing 'deep and increasing concern' over the Iran nuclear program. But the resolution lays no groundwork for action.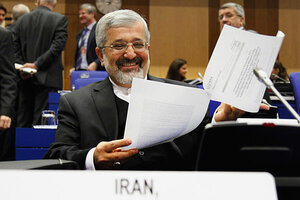 Ronald Zak/AP
A resolution Friday by the UN nuclear watchdog expressing "deep and increasing concern" over Iran's nuclear program achieved the first goal the United States sought from its adoption: international unity.
China and Russia signed on to the resolution, which expresses a new level of urgency, allowing both the White House and Secretary of State Hillary Rodham Clinton to say that the world has sent a "unified message" to Iran that it must answer growing questions about signs of a military dimension to its program.
But now comes the even harder part: getting the international community to move beyond rhetoric to act on its "increasing" concerns.
No one expects the adoption of a resolution by the International Atomic Energy Agency's Board of Governors alone will prompt Iran to alter a program that the IAEA says shows signs of research and development in areas that could only have a military application.
Indeed if there were any doubts about how Iran would respond to the resolution, Iranian officials quickly laid them to rest. In comments after the vote, Iran's representative to the IAEA, Ali Asghar Soltanieh, said his country would not bow to international pressure over allegations which he said are "fabricated."
---
Follow Stories Like This
Get the Monitor stories you care about delivered to your inbox.