US targets Iran's central bank as world takes aim at Iran's nuclear program
Secretary Clinton calls new US sanctions a 'significant ratcheting up of pressure on Iran.' Britain, France, and Canada also announce steps in wake of UN report citing 'deep concern' over Iran's nuclear program.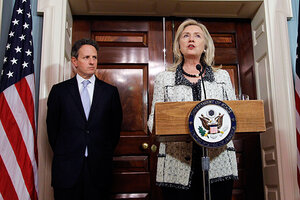 Pablo Martinez Monsivais/AP
The United States on Monday took steps targeting Iran's central bank and its energy sector, acting just days after the United Nations' nuclear watchdog expressed "deep concern" about the military applications it has detected in Iran's nuclear program.
The Obama administration announced it was naming Iran's central bank a "primary money laundering concern" amid mounting international pressure against Iran.
Also Monday, Britain announced it was cutting all British ties with Iranian banks, including the central bank, while Canada announced similar action. And French President Nicolas Sarkozy sent a letter to Western leaders, including President Obama, recommending an immediate freeze on the assets of Iran's central bank.
Mr. Obama said in a statement that Iran was causing its own isolation by pursuing its current path, and he hinted that more pressure is on tap unless Tehran backs off its course.
"Iran has chosen the path of international isolation," Obama said. "As long as Iran continues down this dangerous path, the US will continue to find ways, both in concert with our partners and through our own actions, to isolate and increase the pressure upon the Iranian regime."
---