Who will be whispering in Hillary Clinton's ear now?
Secretary Hillary Clinton, eager for the State Department to have its own advisory panel of big thinkers, is convening the new, 25-member Foreign Affairs Policy Board this month.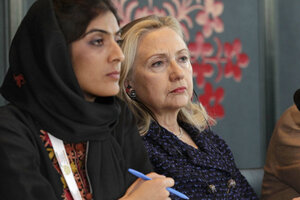 J. Scott Applewhite/Reuters
Since she came into office, Secretary of State Hillary Rodham Clinton has been on the lookout for big ideas to help the State Department do a better job of addressing the nation's international priorities.
Now she's going to have an advisory board of big foreign-policy thinkers to help her come up with those big ideas.
Later this month, the new Foreign Affairs Policy Board will hold its first meeting, with Secretary Clinton personally convening the inaugural session. The new group, modeled after the Pentagon's Defense Policy Board, will be tasked with focusing on "broad strategic questions" and is to provide Clinton and other senior State Department officials "with insights, perspectives, and ideas," according to a statement Monday from Clinton's spokesperson.
The new board will be composed of 25 members, some of whom are well-known Democrats – John Podesta, Mack McLarty, Jane Harman – while others are Republican foreign-policy luminaries: Carla Hills, Jim Kolbe, John Negroponte. The Brookings Institution's president, Strobe Talbott, will chair the new board.
---