How the Iraq war has changed America
A conflict that was supposed to be a quick in-and-out operation lasted nearly nine years – and has left a deep imprint on the policy of American intervention.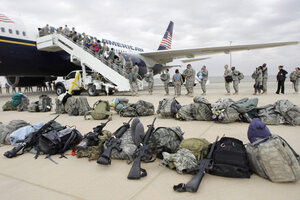 Khalid Mohammed/AP/File
It's called "over the horizon" or remote military intervention – the use of unmanned drones and ship-launched missiles to take out human targets operating in a foreign country without having to put boots on the ground.
As the United States departs Iraq after more than eight years of war and occupation, the stepped-up use of remote tactics and light-footprint special operations forces – anything but large-scale, troop-heavy intervention – is just one example of the lasting impact the Iraq war launched in March 2003 is having on American foreign policy.
"For some period of time, there will be a post-Iraq hangover that will produce real reticence about conducting any military operation that looks even remotely like Iraq," says Stephen Walt, a professor at Harvard University's Belfer Center for Science and International Affairs in Cambridge, Mass. "We aren't going to be undertaking any more lengthy occupations or attempts to refashion the internal politics of a country."
In other words, instead of wars like Iraq they will be narrow-focused, targeted interventions like those in Pakistan and Yemen. "We're going to focus on killing bad guys," Professor Walt says, "not on trying to reshape entire societies."
---